12 Inspiring Ad Campaigns to Be Thankful For This Year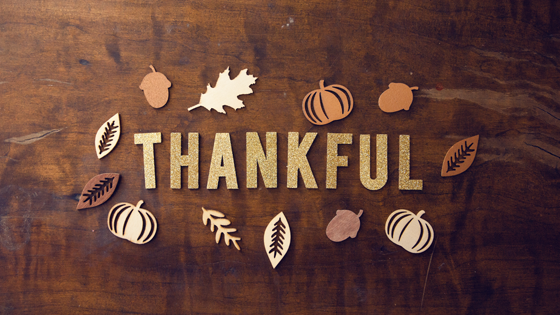 This year has been nothing short of politically and emotionally charged on all fronts. In this increasingly uncertain social climate, brands and agencies must be tactful when taking a stance in their marketing campaigns. It is increasingly tricky for creatives to deliver socially responsible storytelling without ruffling a few feathers. However, these brands were able to successfully deliver messages of inspiration and social justice, while remaining firm on their believes and values, despite the potential for backlash.
In this series of ad campaigns, from Adweek's "Ad of the Day" collection, we explore the 12 most powerful and inspiring campaigns of the year. Although some are more recognizable than others, each delivers a powerful message of inclusivity, diversity, and creative storytelling that will remind us, as we enter into the holiday season, that we all have something to be thankful for.
(Before you dive in, you might want to grab a box of tissues first.)
Without further ado, in no particular order, here are 12 of the most inspiring ad campaigns from the past year we should be thankful for:
1. Nike – Dream Crazy
This one should come as no surprise. Nike called up Colin Kaepernick, former NFL player, and prominent national figure for racial injustice, to be the face of the campaign. He is world famously known for taking a knee during the American anthem while playing in the NFL, and calling on others to do the same. The ad sparked controversy around the world, but its veracity paid off; 56% of the general population said that they were more likely to purchase Nike after seeing the spot. Additionally, Nike received more than $43 million worth of media exposure in the less than 24 hours after the ad posted. In marketing terms, this campaign is not a success, it's a sensation.
Numbers aside, the brand message speaks to a larger story of motivation and inspiration to dream big, or #dreamcrazy. It is a provocative story that reaches deep into the hearts and minds of the public and speaks directly to Nike's core message, "Just Do It." It celebrates people of all shapes, sizes, and abilities. And that's something to be thankful for, no matter what side of the political spectrum you're on.
2. NYT – The Truth is Worth It
This campaign follows Caitlin Dickerson, Immigration Reporter for the New York Times, as she uncovers the story of separated families at the American border. The ad reveals the grit and determination of investigative journalism, and that the constitutional right to freedom of the press is critical to democracy. It is also a story about the New York Times, as a news publication, that is steadfast in its unwavering commitment to the truth. It speaks to the rhetoric around "fake news" and that there is news is still fighting to find the facts, and not propagate an alternative version of the truth. And that is something we should definitely be thankful for.
3. Barbie – Close the Gap
This is an inspiring campaign initiated by Barbie, as the doll makers continue to create a more diverse and inclusive brand story. In this specific piece, the brand speaks to young girls' inability to aspire for greatness in life; a startling and unnerving truth that everyone should pay attention to. According to the campaign, starting at age 5, many girls begin to develop limiting self-beliefs. They stop believing their gender can do or be anything. This is what is called the "Dream Gap", and Barbie is working to close it with conversations like this.
Research shows that children pick up on cultural stereotypes at a very young age that suggest women aren't as smart as men. These stereotypes are often perpetuated by the media and grown-ups who subtly reinforce them. The self-limiting beliefs these stereotypes create can snowball to affect a girl's trajectory and future career choices. They may even discourage women to pursue prestigious careers, especially in fields that value brilliance.
4. Charoen Pokphand Group – Gratitude
As the holiday season approaches, there is something everyone can learn from this emotional ad by C.P. Group. "Gratitude" is the story of a son who is now the sole caregiver for his mother. Every day he brings his mother to school where he teaches. The parents of some of his students feel uneasy about the situation and feel he should no longer teach at the school. However, a deep lesson about family and gratitude is established throughout this 6 minute piece.
5. Ad Council – Rising
Okay, if you haven't already, it's time to get those tissue boxes out. In Rising, a diverse but divided neighbourhood struggles to survive rising floodwaters and bias in the heart of America. The original short film by director David Nutter and screenwriter Lena Waithe asks the question, "Why does it take a disaster to bring us together?"
In this 11-minute heart-pumping spot, we see a community divided by race and ignorance. We see how easy it has become to stereotype and generalize based on our backgrounds. But as a disaster hits the small community, it becomes clear that life, family, and the need to survive is true for all of us. There is good and bad in every person, but it's possible, that we can all come together for good. It begs us to find this common ground every single day, rather than just in times of strife. This is a message to be thankful for, as nations are more divided than ever.
6. SAS — The Arrivals
No matter where you are in the world, the holidays are a time of reunion, and coming home. The arrivals terminal at the airport is a space of excitement, anticipation, and sometimes frustration. The question of, "What is waiting on the other side?" is ever apparent in everyone's eyes. Is this person or people, the same as who I remember them to be?
In this campaign, Scandinavian Airlines explores what we bring back with us on our journeys. We hope that in the time spent away, that we bring home inspiration and courage, perspective and love. It plays off the commentary that travel is essential for change, and that when we change, we also change the world. In a statement by Annelie Nässén – SAS Executive Vice President Sales & Marketing, the campaign is also an environmental message,
"We want more people to be able to discover the world with us, but at a smaller carbon footprint. SAS is striving to create the sustainable way to travel, in the form of various initiatives such as with biofuel, new aircrafts with lower fuel consumption and emissions, and by reducing food waste and the use of plastics onboard."
It is a positive message that we can be thankful for as we look to reunite with our loved ones in the coming weeks. That change, can in fact be a good thing, and the methods of travel we take, provides us with that opportunity.
7. Reporters Without Borders — Billboards Beyond Borders
According to the campaign website, "Billboards Beyond Borders" is an initiative for journalists and others whose voices have been silenced by censorship. Even more, people whose opinions led to censorship, punishment and in some cases even death. To highlight these people's right to freedom of information and expression, and let their voices be heard, Reporters Without Borders turned to the most powerful tool for spreading information – the internet. By altering billboards in Google Street View they gained access to locations where people could never say certain things in real life without facing consequences, far beyond both borders and censorship. The messages on the billboards are only some of the statements that have led to censorship and punishment. There are thousands more, and the censorship that limits the freedom of speech is only getting stricter.
The irony of this campaign is that even the Internet has its borders. The campaign was taken down quickly by Google for "violating Google map's policies." Luckily, they were able to document the initiative and put together a campaign video that teaches us the importance of freedom of speech and press.
8. Sunsilk — Hair Talk
In this campaign, Sunsilk explores the struggles of those who do not conform to society's gender norms. It follows Rock, who was born in a man's body, like thousands of girls in Thailand and across the world. Sunsilk tells her life story from the point of view of her hair. Every inch of hair is an important milestone on her journey to womanhood. The longer it gets, the more feminine she is. Even more, the film stars, and was inspired by the true story of, 20 year-old Rock Kwanlada, first runner-up Miss Tiffany Universe 2017. The campaign, was an instant hit on social media, with 2.5 million organic views in the first 48 hours. Within 2 months, it had sparked a nationwide conversation around gender and stereotypes, gathering over 37 million views in Thailand alone.
Children want to make their parents proud, no matter what. This campaign makes us thankful for the unconditional love and acceptance of our parents, no matter what we look like, or who we identify as. Watch the story below:
9. Shell — Are men ready for women drivers in Saudi Arabia?
June of this year marked the end of Saudi Arabia's ban on women driving. This advertisement from oil company Shell addresses how Saudi men feel about the change. The clip shows five men from various walks of life being driven around and asked for their thoughts on the Crown Prince Mohammed bin Salman's historic move. The responses from these men are insightful, heartwarming, and empowering to hear.
One man recounts that his sister "is a pilot, for crying out loud," and how can we tell her not to drive? It's an important story for Westerners, to be thankful that these are not the structures we battle, and that as women, we do not have to seek permission for anything. As one newly licensed women explained,
"Driving to me represents having a choice – the choice of independent movement. Now we have that option."
Watch the spot below:
10. Whirlpool — Congrats, parents
By playing off their largest buyer persona; parents, Whirlpool has crafted an emotional take on one of the biggest milestones in a young person's life; graduation. In 2018, 3.6 million students will walk the stage at high school graduation and behind each one of them are (probably) parents who got them there through years of care, sacrifice and love. They were making meals, doing dishes and washing loads of laundry to get their sons and daughters to the cap & gown.
This campaign makes us feel thankful for any parent, guardian, guidance councillor, or mentor, for their support, encouragement, and hard work to push us through one of the most challenging periods of our lives.
11. Midas — Project Spark
This initiative from Midas called Project Spark is a true story about Paying It Forward. Lack of transportation is a barrier for millions of Americans, and Midas is repairing over 1,000 vehicles for families, veterans and first responders to help them lead a normal life. Midas describes the campaign mission saying,
"By getting people back on the road, we're helping improve lives and make our communities a touch better."
Watch as Midas follows three stories from families across America, and uncovers how their life has been being without a car, then delivers them the dream of having a vehicle of their own.
This project is ongoing, and relies on car donations for success, so if you have a broken or unused vehicle you can still donate to a local shop near you.
12. Apple — Share Your Gifts
This is a late entry but a worthy contributor. This ad by Apple is a bit of a departure for them; but shows a warmer side to the company. Unlike previous years it is fully animated and showcases almost no apple product (save for the animated macbook). The piece is rightfully titled "Share Your Gifts", and focuses on everyone's individual talents. Whether it be digitally with music or video creation, or simply cooking, the focus is on creation and expressing your creative wits.
You can follow Sofia on her journey to understanding that your talents are meant to be shared; and that others will benefit from them. And we can all be thankful for those who offer their talents and skills to make our world a better, more productive place.
---

In this age of digital transformation, businesses need to take creative risks when it comes to their engagement strategy. Explore the top 10 marketing trends that are disrupting the way we engage consumers in 2018 and beyond.
WHAT'S INSIDE:
Personalizing the Experience with Artificial Intelligence
Getting Immersive with Virtual Reality & Augmented Reality
Winning Over Your Customer with Contests and Sweepstakes
Interactive Case Studies from Dr. Oetker and adidas
Plus So Much More!