4 Winning Secrets for Maximizing Contest Entries
Oftentimes brands think that any ol' prize will grab their consumers' attention. Sometimes, even expensive prizing fails to attract high entry rates. At WILY, we work with large brands and agencies who are running multiple contests at the same time. So, it's not unusual to see a little healthy competition between which contest is performing better. Recently, we had a team member from a large retailer come to us scratching their head. "We launched contest X, and it has an AMAZING prize, but why is contest Y seeing more entries?" Well, let's dig into this a little shall we? The contest is a meet and greet with someone famous. For this example let's say it's a chance to win a meet and greet with Prince Harry. That does seem pretty appealing doesn't it? So, what seems to be the problem? AH-HA! Here's your problem…
There's only 1 prize.
Wait? So, you can't run a contest with only one prize? Of course you can, but unless you know how to engage consumers along the way, its unwise to launch a contest that involves one grand prize, and a single-time entry form.
Even if it's an amazing prize, participants want more than radio silence after they fill out your entry form. If you're running a contest for 6-12 months, and it has a single grand prize, consumers might feel like their odds of winning are far too low to bother. You must engage participants along the way or you're bound to get low entry rates. Don't let your contest suffer from "I probably won't win" syndrome.
Here are 4 tips you can use to captivate consumers with your prizing and increase entries into your next contest:
1. Have Instant Prizing
The more instant the reward the better. Instant prizing gives consumers an immediate spike of serotonin that makes them feel good about engaging with your contest. Even if the instant prize is a small $5 voucher, you'll see an increase in entries.
Dr. Oetker did this for their "Find Giuseppe" contest. Even though the grand prize was a Dodge Grand Caravan, everyone had the opportunity to win an instant prize upon entering into the contest. Without instant prizing, many participants would feel that winning the grand prize was out of reach. Therefore, the opportunity to win something right away is better than nothing right? Instant prizing takes the pressure off, and gives participants an immediate reason to enter. As with many marketing strategy, urgency is key, and the chance of missing out is present when instant prizing is on the table.
2. Allow for Repeat Entries
If your contest is running for a relatively lengthy period of time, its wise to allow for repeat entries. This gives participants the impression that they have a better chance at winning, and are more likely to engage in the program. Again, Find Giuseppe allowed contestants to play and earn points up to 10 times per day, and naturally the more you play, the more ballots you earn, and the likelihood of winning appears to increase.
3. Include Refer a Friend
In conjunction with repeat entries, it's invaluable to provide a "Refer a Friend" option for your contest. Again, this gives contestants the feeling that if they refer a friend their odds of winning increases. Additionally, and arguably more invaluable, is the ability to go viral from "Refer a Friend". Find Giuseppe earned nearly 130,000 shares on social media, just because contestants assumed they had a better chance at winning if they shared the contest. Plus, if your contest requires ballots to enter, its valuable for the referrer to earn additional ballots after sharing it with a friend who signs up for the contest. (HQ Trivia does this as a key marketing strategy, and I think we can all attest to how viral the online gameshow has become.)
4. Use Engagement Mechanics
Simple engagements are a great way to get consumers hooked on a chance to win. Gamification elements like Sport Chek's "Shoot to Win" contest are simple yet effective for engaging and activating consumers. The key is that it requires little effort, and the rewards are instant. Once again, immediate gratification is essential to boosting contest entires. Check out WILY's collection of success stories to see how engagement mechanics can help knock your contest out of the park.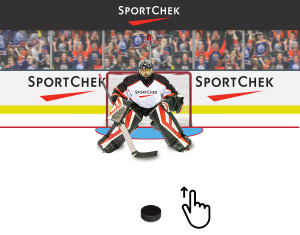 These are four simple yet powerful ways to boost entries for your contests. If you're looking for more information, or want to deploy a program like the ones mentioned above, be sure to speak to one of our experts about running a successful contest.
---

In this age of digital transformation, businesses need to take creative risks when it comes to their engagement strategy. Explore the top 10 marketing trends that are disrupting the way we engage consumers in 2018 and beyond.
WHAT'S INSIDE:
Personalizing the Experience with Artificial Intelligence
Getting Immersive with Virtual Reality & Augmented Reality
Winning Over Your Customer with Contests and Sweepstakes
Interactive Case Studies from Dr. Oetker and adidas
Plus So Much More!