A New Way to Think About Contests and Sweepstakes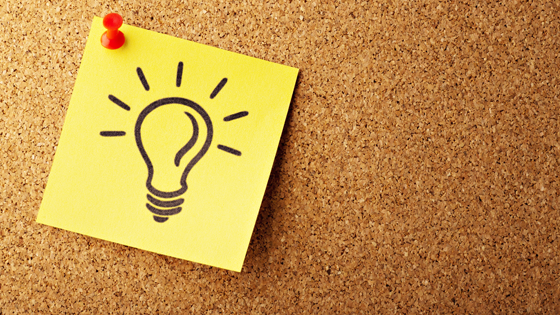 Since the GDPR took effect, brands must do more to identify themselves clearly, provide contact details, and tell people how they are using their data. Therefore, rules and regulations are increasingly vital for brands looking to run online contests as consumers now have greater power to file complaints. At the same time, contest platform providers, like WILY, are among the security compliant vendors who Fortune 500 brands can turn to for all their contesting needs and avoid any potential security issues.
Now, more than ever, consumers are holding brands to a higher expectation on contests and digital media than ever before. In turn, when brands show they are taking this responsibility seriously, customers notice, and participation in their online contests will grow.
Let's explore how brands and agencies can effectively develop contests and sweepstakes for today's digital consumers in the age of GDPR compliance.

1. "Always-On" contests and sweepstakes
By running contests using a platform like SPRY brands no longer have to operate from campaign to campaign, they can make tweaks to contests and sweepstakes in real-time never having to stop and start all over again from scratch.
Marketers have an opportunity to make their lives easier by incorporating a "always-on" PIN-on-Pack program into their marketing mix. This solution helps improve program budgets, engagement initiatives, and results while eliminating long lead times by approaching traditional PIN-On-Pack promotions more strategically.
How can marketers execute this "always-on" initiative? First, it begins by printing unique PIN Codes on ALL packaging:
Launching the solution once and running it year-round/year-over-year
Running several different promotions by utilizing the printed PINs
Unused PINs can be carried over for future initiatives & new PINs can be added at anytime
So, what does this have to do with security and digitization? Well, WILY's secure cloud-based platform will generate millions of unique, one-use PIN Codes for a brand's packaging printer. The packaging printer will then add the PIN Codes to various products. Then, WILY will create a brand specific microsite that can be turned on/off within a few hours. The microsite is customizable for the brand and features key elements such as the contest entry form, rules and regs, engagement mechanic (optional), privacy policy, etc. To understand this better, see the user flow below to follow how this process can be effectively executed.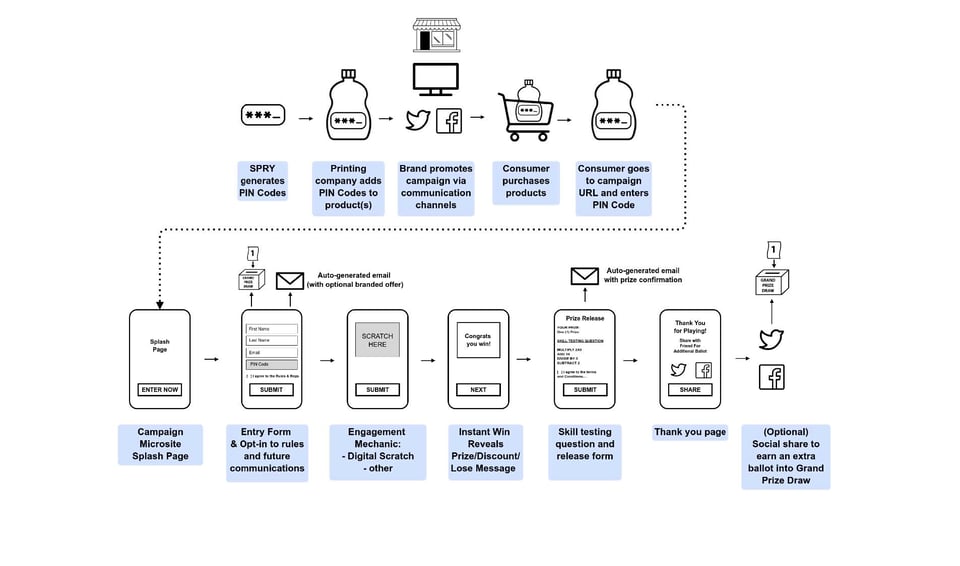 This process leads to:
More engaged consumers and more data
Increased user trust and brand loyalty
Easier automation and CRM integration
Once you've set up your contest, it becomes an automatic data collection machine all-year round.
2. Leveraging interactive product presentation campaigns
Whenever you run a social media campaign, you should have a very specific objective. One popular goal is product presentation. Brands are constantly looking for ways to highlight their products, without becoming too spammy or losing followers.
In the years ahead, more brands will use gamification as engagement tactics for their contests and sweepstakes. Why?
Gamification increases the time that people spend interacting with the campaign.
Gamification increases the likelihood that people will share the campaign.
So, it's an ideal method to maintaining long-term consumer engagement. Additionally, digital gamification is much more affordable and faster to deploy in recent years, making it more accessible to all brands.
Take a look at the video below to see how some of the world's most trusted brands are leveraging gamification in their contests and sweepstakes to appeal to digital audiences:
WILY: Engagement Mechanic Demo Reel from WILY on Vimeo.
3. Activating sponsorships with digital contests and sweepstakes
Sponsorship activation is one of the best ways for brands to attract new consumers. However, with so many brands leveraging sponsorship activation, marketers must be increasingly creative with how they appeal to audiences. Contests and sweepstakes provide an edge for activating sponsorships, what better way to do this than with a contest or sweepstakes. Recently, WILY worked with Air Canada to activate their MLSE sponsorship by launching a contest capturing basketball and hockey fans. This initiative involved creating a contest entry and microsite for Air Canada for fans to enter for a chance to win and see their favourite team play at an away game, throughout the playoff season. Naturally, the sponsorship hook was to boost Air Canada as a trusted travel provider by creating memorable travel experiences for fans. The contest lasted one week and earned over 7,000 entries.
This is a great example of how leveraging digital channels with a trusted contesting platform can grab consumers' attention and help to collect valuable customer data, all while activating your sponsorships.
To learn more about leveraging these strategies in your marketing mix, be sure to connect with one of our engagement experts.
---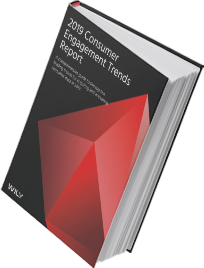 Companies connect data and content to deliver on the notion of personalization. This report assists brand marketers and agencies looking to engage consumers in the digital-first era. It outlines 10 emerging trends and technologies that marketers need for personalizing communications along the customer journey.
WHAT'S INSIDE:
The Value of Data-Driven Creatives
5G and Mobile-First Marketing
Leveraging The Internet of Things (IoT)
Experience-Driven Marketing
Plus, So Much More!