5 Useful Tips From Experts In Customer Engagement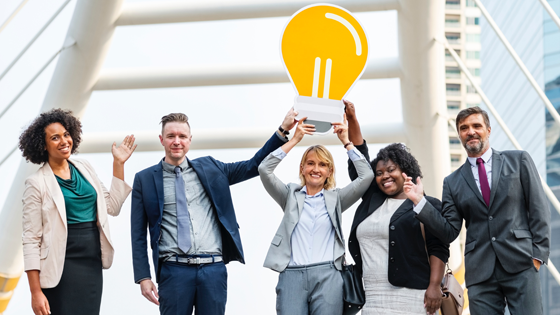 Customer engagement is a broad term that can describe any number of business functions such as customer experience, customer success, and marketing. Wikipedia describes "customer engagement" as a business communication connection between an external stakeholder and an organization through various channels of correspondence. This connection can be a reaction, interaction, effect or overall customer experience, which takes place online and offline. For the purpose of this article, we will refer to customer engagement, or consumer engagement, as doing something to attract the attention of your intended audience, and motivating them to engage with your brand in some way. This could be through a sale, a sign-up, an in-store visit, a live activation or any other marketing tactic.
Customer engagement is moving towards more digital experiences to engage and activate consumers. These tips provide insight into the areas marketing professionals should consider as part of their engagement strategy to compete in the current market, and set their brands apart.
Here are 5 tips from experts in customer engagement that are driving business efforts forward in the age of digital transformation:

1. Personalize Communication
"Track every customer touchpoint. Collect data to identify individual personas. Make sure they're on the correct path, and use that data to programmatically scale amazing experiences across the entire customer lifecycle." — Mathew Sweezey, Principal of Marketing Insights at Salesforce
Our take: Data reveals each stage of the customer journey, and allows marketers to better optimize content to offer more engaging, more personalized experiences through the 360 degree view of the customer. By collecting, analyzing, and segmenting data, you have a better chance of engaging and activating audiences.
2. Create Two-Way Engagements
"The digital era has […] led to consumers having very limited attention spans. We therefore are finding ways to engage them like never before. This change in our approach enables us to go from simply having one-directional conversations to creating two-way engagements that are more fulfilling to our consumers." — Raja Rajamannar, CMO of MasterCard
Our take: Live video or "in the moment" marketing, is a huge driver of engagement, especially with the super-connected Generation Z. Consumers value authentic marketing, and live streaming is a great way to show your "true authentic brand" to audiences. It allows for a two-way conversation between brand and consumer. Marketers cannot hide behind the veil of corporate communications, and instead must answer to consumers in the moment.
3. Tell a Story
"CX of the future should be designed like a Disney or Pixar movie, complete with character and story development, storyboarding, and integration into a thoughtful and methodical universe where the experience is consistent, integrated, and enchanting in every moment of truth" — Brian Solis, Principal Analyst and Futurist, Altimeter
Our take: Today, AR and 5G are paving the way for experiences to become more immersive. Thus, allowing marketers to tell more engaging stories because:
You can now deploy AR on a consumer's personal mobile device or tablet without the need for a headset.

The speed of

5G allows for the creation of content that supports AR experiences.
4. Give Digital Experiences Meaning
"Use digital technology to create and scale authentic, meaningful experiences for the sophisticated and unimpressionable Gen Z audience. They prefer brands that stand for ideals that they care about." — Ben Foo, CMO, Taylor's University
Our take: In today's politically charged environment, it's important to give context and meaning to the experiences you create. Not every brand has to be political. However, consumers are more interested in brands that align with their own preferences. So, having purpose-driven experiences are sure to engage and retain the consumers you want. Also, be sure to check out these great examples of purpose-driven marketing.
5. Use the Psychology of Persuasion
"Engagement demands our customers take an action, to both initiate and maintain an engaged relationship, but how do you encourage action? An understanding of the principles and subtleties of the psychology of persuasion can be invaluable. Our ability to ethically use concepts like scarcity, consensus and reciprocity can help immensely when trying to engage audiences." — Richard Sedley, Director of the Customer Engagement Unit at cScape
Our take: Contests, sweepstakes, and interactive gamified elements are a great way for consumers to engage with your marketing. It's worth investing in experiences that trigger a reaction and drive consumers to action. To see how brands are accomplishing this, be sure to check out these campaigns from the most trusted brands in the business.
---
As marketing continues to lean heavily on digital technology and automation for success, buzzwords and phrases will only continue to grow in complexity. In Volume 1 of this comprehensive book, you will understand the ins-and-outs of the most up-to-date marketing buzzwords, and how marketers can effectively use these terms in the workplace, and in every day use.
WHAT'S INSIDE:
Diction 101: Defining the 30 Most Popular Marketing Buzzwords
Grammar 201: Understanding Correct Usage of Buzzwords
Etiquette 301: Effectively Using Buzzwords in Professional Conversations
Context 401: Hashtags to Follow for Relevant Online Discussions
Plus, So Much More!