Top 10 Consumer Engagement Trends for 2019 [White Paper]
Introduction
To anticipate where consumer engagement is heading in 2019, we must first explore the areas that are most important to marketers, their businesses, and what opportunities lay ahead. Today, the conversation most marketers are having is around personalization. Personalization is not a new topic of discussion. According to reports by CMO.com, marketing is still at "a very basic level of personalization," but strategies will mature in 2019 as companies begin connecting data and content to deliver on the notion of one-to-one marketing.
Data has started to become central to consumer experiences. The ability to collect, analyze, and deploy new ideas from consumer analytics is without a doubt the most important, yet under-utilized area for marketers. The need for personalization is far too important to ignore, and the insights from that data can help make this a reality.
How then can marketers effectively engage consumers and activate campaigns so that they can acquire the data needed to make future marketing decisions? This report will explore 10 consumer engagement trends that are central to data acquisition and activation in 2019. This will serve as a resource for marketers to further engage their audience and activate around their personal preference.
This report will assist brand marketers and agencies in their quest to engage consumers in the digital-first era. It will outline the emerging trends and technologies that marketers will lean towards to gather important consumer data to personalize communications across various touch-points along the customer journey.
These ten leading and emerging trends will be ones to follow in 2019:

1. The Value of Data-Driven Creatives Will Be Realized
Data has taken over the spotlight as the key driver for all marketing strategy. Now that marketing teams are regularly collecting data and making decisions based on those insights, it is time for marketers to get back to their roots: creativity. In a report by CMO.com, Stacy Martinet, VP of marketing strategy and communications at Adobe revealed:
"A data-driven approach to creativity helps marketers work more productively, create the right content faster, and deliver that content to the right customer, across the right channels, at the right time. One common denominator among today's most innovative companies is a unified view of the customer, pulling data from across multiple sources. The data piece is table stakes nowadays. It's going to take a mix of creativity and intelligence to stand out."
Additionally, Alvaro Del Pozo, VP of Marketing for Adobe APAC explains,
"The digital leaders of tomorrow need to look at technology from a creativity and design perspective – not just an efficiency perspective. To get CX right, its delivery should span the entire organization – from CMOs to CIOs to creative leads – through collaborative, enabling technologies."
Our Takeaway
This signals a shift towards more collective creativity in the marketing and advertising space. As data reveals each stage of the customer journey, marketers will begin to better optimize creative content to offer more engaging experiences through the 360 degree view of the customer. Marketers who hope to get consumer engagement right in 2019, will strike a fine balance between data-driven and creative-driven content.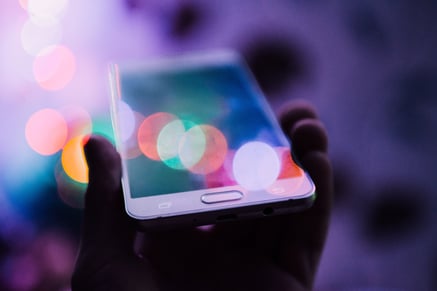 2. 5G and Mobile-First Marketing
Today, nearly 60% of shoppers look up product information and prices while in stores, and that number is going to grow next year. And now that augmented reality is available to hundreds of millions of iOS users across the globe, retailers and brands are building more mobile experiences that overlay real-time information onto a shopper's surroundings in-store.
Additionally, 5G will bring forward a new supercharged mobile landscape for marketers in 2019. 5G's ability to process data more swiftly is predicted to supercharge marketers' capabilities around personalized content and real-time ad targeting at a more granular level, as well as power the evolution of connected devices like cars, speakers and wearables. Intel and Ovum forecasts that video will comprise 90% of all 5G traffic in 10 years, signalling major opportunity for marketers to develop quality mobile content and better engage audiences.
Moreover, 5G makes virtual reality viable. Streaming video with no buffering will become a reality so brands will be able to finally explore immersive media formats such as VR and AR and start creating totally different creative.
Our Takeaway
In 2019 we can expect to see a pivotal shift toward increased mobile usage. As people become increasingly reliant on their smartphones, the use of digital wallets and branded applications will add to the ways brands interact with their customers. Taking advantage of this opportunity to engage customers and connect with them on their preferred channel is achievable.
3. Artificial Intelligence Gets Even Smarter
Artificial intelligence (AI) has received a lot of hype over the years, but 2019 is projected to be the year AI finally begins to serve its intended purpose.
There are a number of ways AI will impact marketing strategy in the coming year; some big, some small. Therefore, this section will explore three distinct areas that will see the greatest transformation from AI in 2019, in relation to consumer engagement and personalization. These areas include, but are not limited to: chatbots, predictive analytics, and mobile AR.
a. Chatbots
Last year, artificially intelligent assistants known as chatbots were all the rage. They were self-learning and capable of creating contextual customer engagement through messaging applications. However, early reviews indicated that chatbots lacked proper natural language skills, and many preferred speaking to a live customer service representative over a chatbot. This will change in 2019, as chatbots' abilities are only continuing to improve. Emobots will be able to gauge the real-time emotional reactions of a customer to provide the most suitable level of service and properly adjust the conversation as needed.
b. Predictive Analytics
Predictive analytics can now analyze customer information, purchase patterns and past interactions to predict an individual's wants. This will enable brands to offer relevant product recommendations and timely reminders when a customer is likely in need of a restock. The ability to demonstrate your attentiveness to customer needs will drive positive engagement moving forward.
c. Mobile Augmented Reality
AR is easier to access and more cost-effective than it's ever been. AR's ability to be deployed on a consumer's personal mobile device or tablet will finally give this technology the attention it deserves. The fact that AR can be used on mobile devices will make adoption easier, less intimidating, and more affordable.
Our Takeaway
In 2019, forward-thinking brands will have the opportunity to harness artificial intelligence through many emerging technologies that create more engaging and individualized experiences than they have in the past.
4. Leveraging The Internet of Things (IoT)
The Internet of Things (IoT) is the connection of everyday products like cars, alarm clocks, and lights to computing devices via the internet.
IoT allows for the ability to exchange data with connected devices, providing marketers with more context about how their customers' use their products. This enables marketers to deliver more relevant messages while leading to greater customer engagement.
It's been predicted that by 2020, there will be at least five IoT connected objects for every smartphone user. For online shopping and e-commerce brands specifically,this means an entirely new wave of opportunities to connect with consumers as the IoT transforms inanimate objects into potential sales channels. Building off the desire of consumers for brands to anticipate their needs, IoT connected items such as refrigerators know when an item needs to be replaced and can initiate an order.
IoT devices generate unprecedented amounts of data, so every customer interaction allows marketers to capture consumer intent, behaviour, needs, and desires. This makes it possible to serve relevant marketing messages to customers at the right place, and at the right time.
Along with the traditional responsibilities of agencies, they will start playing an increasingly technical, data-centric role as technology partners. Agencies, and marketing technology partners like WILY, will help to build their client's platforms, develop internal systems, and manage the implementation of tagging elements.
Our Takeaway
In 2019, marketers must adapt to their role as creatives and data analysts. More research and development about this ever-evolving space is vital to success, and agencies must communicate these new opportunities to clients. Additionally, a keen understanding of the data IoT delivers, and what actions to take within a given customer journey is integral to a positive consumer engagement strategy.
5. Voice Storytelling Will Re-emerge
In 2019, the voice recognition market is estimated to be worth $601 million. By the end of 2022, voice commerce is expected to be a $40 billion industry, and 55 percent of American homes will include at least one smart speaker. Additionally, RBC Capital Markets has predicted that Amazon's Alexa will bring in $10 billion in e-commerce revenue by 2020.
As voice activated devices take over consumer households, so will the opportunity to leverage the technology for marketing purposes as consumers continue to integrate them into their daily lives.
"It's not a matter of if voice will be used as a brand and marketing advantage, but when, and when that shift happens—moving from voice search to voice engagement—retailers want to have a first-mover advantage, as users only hear the No. 1 recommendation." – Robert Blatt, CEO of MomentFeed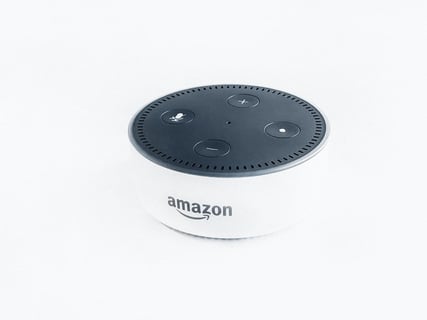 The benefits of voice are numerous. Voice technology is a key modality, removing a major source of friction from the more cumbersome keyboard, mouse, and touchscreen. It also promises to bring a more human form of storytelling to digital experiences, as well as an opportunity to engage consumers with personalized marketing in a more natural state.
Voice recognition technology is still maturing, but it comes with the promise of "decoding" user intent and understanding the words behind consumers' searches. With the help of artificial intelligence, brands can read contextual clues to refine their customer personas according to their stage of the buying journey. Armed with this information, brands will be better positioned to fine tune their voice in accordance with intent.
Our Takeaway
As technology continues to advance throughout 2019, the CMOs ready for this shift will be the ones whose brands win the biggest market share. It's now up to brands and marketers to figure out where they fit in the bigger picture, and how to deliver content that serves a purpose to engage and activate consumers through voice.
TIP: Explore how marketers are currently experimenting with voice control to engage consumers in "Behind the Numbers" with eMarketer's Victoria Petrock.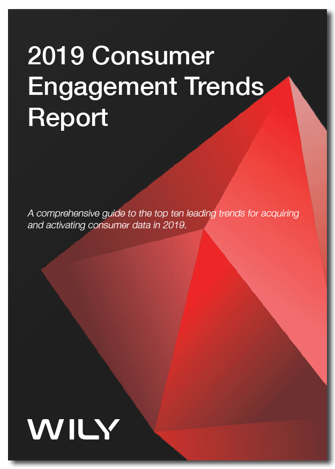 ---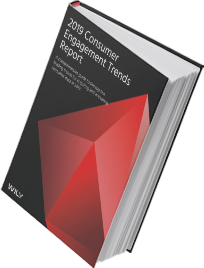 In 2019 companies will begin connecting data and content to deliver on the notion of personalization. This report assists brand marketers and agencies looking to engage consumers in the digital-first era. It outlines 10 emerging trends and technologies that marketers need for personalizing communications along the customer journey.
WHAT'S INSIDE:
The Value of Data-Driven Creatives
5G and Mobile-First Marketing
Leveraging The Internet of Things (IoT)
Experience-Driven Marketing
Plus, So Much More!