8 Mistakes You're Making With Sweepstakes and Contests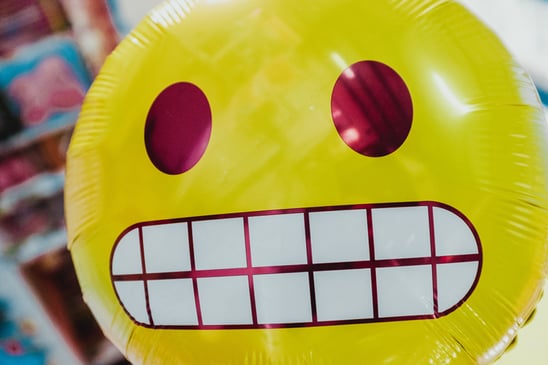 Sweepstakes, giveaways, and contests are a popular marketing tactic for growing your audience and winning new business leads. However, there is a common misconception that giving away something for free will instantly generate new customers and sales overnight. This is not always the case. Oftentimes, contests and sweepstakes are so poorly executed that brands will spend more time and money on the prizing than on the business they earn. Think about some of the contests or sweepstakes you've entered into. Did they have something in common? Now, what about the ones you didn't enter? Was there a reason why you opted out?
You may have just experienced your own "ah-ha!" moment.
Consider your own preferences as we uncover 8 mistakes to avoid making when launching contests or sweepstakes:

1. Bad Prizing
Sometimes contests and sweepstakes have massive grand prizes that miss the mark attracting entries. Why? In some cases, the prize just doesn't appeal to the target audience. The key to good prizing is to make it something your customers covet, and to also make it attainable. Small prizes like coupons and vouchers are inexpensive, however, with the right prizing structure, they act as effective draws into the larger grand prize. If you plan to include a grand prize draw, consider smaller prizing to encourage continued engagement into your program. For more insight on this, check out, "3 Contest Strategies Guaranteed to Boost Customer Engagement [Infographic]"
Additionally, if you don't want to spend a lot on prizing; consider using a sponsorship to give your sweepstakes/contest legs. Most brands have multiple sponsorships they can leverage, and this is a great opportunity to nurture those relationships.
For instance, Canon Canada launched a contest with Maple Leafs Sports & Entertainment (MLSE) for the chance to win VIP tickets to a Toronto Maple Leafs game. Fans were given a chance to win the grand prize tickets, as well as gift cards and camera kits, by digitally scratching an ice surface to reveal prizing. This supplementary prizing provided an extra boost to the contest, while still incorporating Canon's own product.
2. Too Complicated to Enter
The sign of a bad contest is including too many steps to enter. We see this happen all the time with "Instagram Loop Giveaways" where multiple accounts try to leverage the other. They are much more complex and have a lot less engagement than one with fewer steps. This is an example of an Instagram loop giveaway: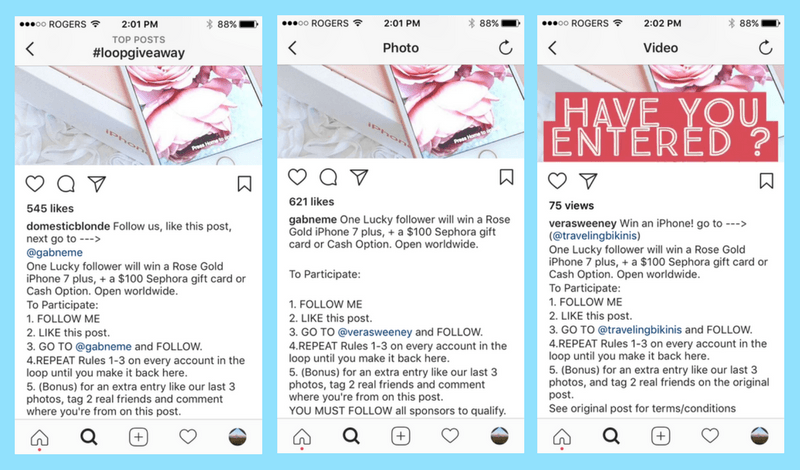 Would you enter into this giveaway? I'm sure some of you might, but personally, I stopped reading after step #3. I mean, how many pages do I have to follow, and pictures do I have to like to enter? The effort isn't worth the return. So, keep your entry path as simple as possible. We're not saying you should ignore this tactic, however, there is more risk involved with this strategy. If you're looking to knock your giveaway out of the park, stick to the path of least resistance.
3. Wrong Duration
The duration of a contest or sweepstakes could greatly effect its outcome. You have to give yourself enough time to promote the contest and reach your audience, otherwise it won't garner much traction. A good rule of thumb we stick to is between 6-8 weeks. This provides brand with enough time to promote the program and generate sufficient entries. If you run contests or sweepstakes for too long, you might experience a lot of radio silence once the initial hype has settled. On the flip side, running something too quickly can create a frenzy, or worse, no time to promote and collect entries.
Ensure you have the duration timed correctly by setting timelines and goals throughout the program.
Bonus tip: If the contest/sweepstakes includes multiple entries per person, per day, then you can effectively run the contest longer versus one that only allows for one entry per person. It's just common sense, really.
4. Poorly Designed
Design and content is extremely important in today's digital age. Long gone are the days of the blank white paper ballots. Sweepstakes should excite and delight consumers, and effective imagery and design makes this possible. This is also an opportunity to shine a spotlight on your brand. By effectively considering design in your contest/sweepstakes experience, consumers have the opportunity to get a sense of your brand and your effort put into the customer experience.
A poorly designed contest/sweepstakes lack creativity, user experience, and is usually pretty bland. For example this BioVi sweepstakes:
There's a few glaring issues with this promotion. First of all, it leads with the form and not the prize, the copy is all over the place in different font weights and sizes, and overall it doesn't make you feel anything. There's no attraction to enter. I don't know what BioVi is, but if I'm entering for a chance to win it, I'd like to see a picture of it as well.
One of my favourite examples from a creative standpoint is the Hershey's "For the Love of the Cup Contest":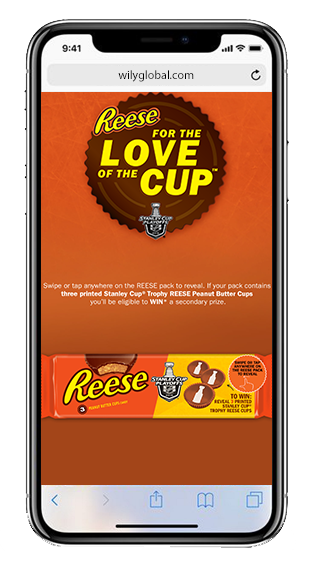 This digital experience is designed with Hershey's Reese Peanut Butter Cups as the focus on the contest. The mechanic used here is to physically or digitally "pull back" the wrapper for your chance to win tickets to the Stanley Cup Playoffs. Design and user experience is at the heart of this activation, and contestants are driven to the colours and the imagery used. See it for yourself, view the complete design here.
5. Failure to Market Effectively
Your contest or sweepstakes could be amazing, but without proper marketing, you may not generate the expected results. Before launching a sweepstakes or a contest, ensure you have a marketing plan in place to promote the campaign. We often see incredible prizing, entry forms, and creative design, but poor entry rates. When we ask the client how they marketed the campaign, they basically drop the ball. Half the effort of launching effective contesting is the marketing strategy.
Decide where your audience lives, and what channels make the most sense. Maybe you'll promote it socially, use promoted banner ads, or even a TV spot, and some printed materials in-store.
Kuhmo Tire used banner ads on their own website to drive to a corresponding contest microsite. If the traffic is there, it only makes sense. Plus, it's free, right? You don't have to spend a lot to gain traction for your campaign; you just have to be strategic about it.
6. No Instant Rewards
In our experience with running contests and sweepstakes, no one has ever complained about getting an instant reward. It's not necessary, but it sure does help. If you offer participants a chance to earn 10% off your brand for simply filling out some information, entries will be up and slippage rates will be down.
The benefit of including instant rewards is the ability to collect more data about a customer. As we explain in #7, by splitting up your data entry across the experience, you'll have greater success acquiring the information you desire.
In this Sportchek activation with the Edmonton Oilers, fans were invited to access a website, enter a few pieces of information, play a game, and win an instant prize. If they won, they had to go visit a section in the arena and claim their prize. Download the case study to see the entire experience for yourself.

7. Lengthy (Paper) Sign Up Form
No one likes entering their information into a form, especially when it requires more than 30 seconds of your attention. Usually consumers will make a little effort if there's a chance to win something on the other side, but not always. If your entry form looks like this, you might have some problems: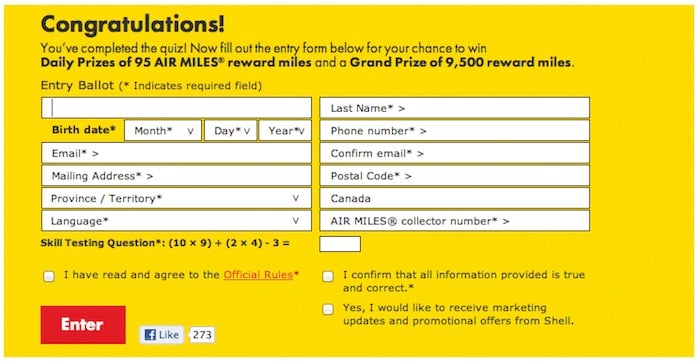 Not only does this contest require entrants to complete a quiz, they basically want you to enter in everything besides your social security number. Besides, is the prizing even worth it?
One tip we have is if you want to collect a lot of data about a customer, try splitting up the fields across your experience. Perhaps in this case it would make sense to ask your your Name and Entry Ballot prior to completing the quiz. There are many cases where putting too many fields in one form becomes a barrier to entry. Splitting this up is just one way to ensure you collect the data you want without jeopardizing contest abandonment.
Also, don't expect the same amount of entries if you're still using paper forms! The security and ease of collection with digital forms is a no-brainer in this day and age. In most cases, you can skip the paper ballots and go straight to digital.
8. Forgetting to Set Goals
Today, data is the backbone of any marketing campaign. Therefore, having set KPIs and metrics for any campaign, even sweepstakes, is necessary to prove its value. Each business should have a purpose for running sweepstakes. There should be clear goals and objectives in mind prior to launch. Whether its to drive awareness around a new product or for brand awareness, having set goals provides a clear vision of what this campaign should look like. If it accomplishes your goals, then you have evidence to support reproducing the campaign again. Otherwise, you'll just have to come up with another idea in the future, without any proof of concept.
---

In this age of digital transformation, businesses need to take creative risks when it comes to their engagement strategy. Explore the top 10 marketing trends that are disrupting the way we engage consumers in 2018 and beyond.
WHAT'S INSIDE:
Personalizing the Experience with Artificial Intelligence
Getting Immersive with Virtual Reality & Augmented Reality
Winning Over Your Customer with Contests and Sweepstakes
Interactive Case Studies from Dr. Oetker and adidas
Plus So Much More!