From Around the Web: 8 Awesome Examples of User-Generated Content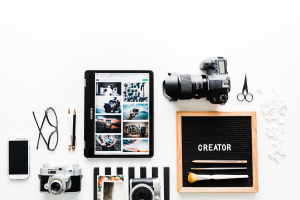 User-Generated Content, also known as UGC, has gained momentum as a marketing strategy since the inception of social media. The ability to engage consumers so much that they will actively build content for you is invaluable to any marketer. However, creating a compelling UGC campaign rarely happens overnight. The ability to make consumers care enough about your product or your event, that they're willing to spend time and social real estate on your brand is a creative and strategic process. In some instances, brands can utilize their own user data to create the content they need (i.e. Spotify), but it all starts with the consumer.
We've scoured the interwebs for some of the most creative user-generated campaigns from brands you know and love, and what makes them so successful. Check out 8 of our favourites below:
1. Crispy Minis – "Flavourbomb Your Photo" Contest
One way to get users excited about creating user generated content is by launching a contest along with it. Crispy Minis launched their "FlavourBomb Your Photo Contest" for the chance to win a $10,000 travel voucher to a flavourful destination of your choice and other exciting prizes. How can you enter? Take a selfie and add a Crispy Minis "flavourful" frame. In a few short weeks Crispy Minis had collected a gallery of UGC on the contest website as well as a number of shares across social media.
A few years ago Spotify raised eyebrows by placing some of its most compelling user data stories on billboards in the U.S., the U.K., France and Germany. Incorporating user data is a unique way for brands to harness content that is already there. By aggregating user interactions with the platform, Spotify highlighted some of the weirdest user habits on the streaming music service. This campaign celebrated users in a light-hearted humorous way, and also peaked the interest of non-users. The success of this campaign has encouraged Spotify to repeat it for the last three years. UGC is all about building your brand and your community, and Spotify hit the nail on the head with this one.

3. Netflix – #StrangerThings2
Sometimes it only takes a single piece of user-generated content to drive engagement. In this instance, that's all it took for Netflix to drive it's online audience to 125K in 2 weeks. During the much anticipated second season of Stranger Things, fans turned to social media to share their excitement. However, Netflix discovered that its Instagram engagement was outperforming all others. So, it only made sense for the brand to go where their customers were. Netflix then began resharing "influencer" content such as "Baby Barb" on their Instagram account. (I mean…how cute is that?)
The key takeaway here is that Netflix recognized when and how user-generated content can bolster their own reputation and jumped on the opportunity when it arose. Perhaps this was an accidental instance of UGC, but considering the numbers, it's worth pointing out.
The Reebok x Crossfit "My Open Goal Contest", powered by SPRY, is an example of how to target a niche audience and have them create and share valuable content. The campaign was launched to engage CrossFitters in the New Year as they returned to the gym and trained for the CrossFit Open. Reebok accomplished this by inviting consumers to take a video selfie and record their CrossFit Open Goal. Their submissions were then uploaded to a live video gallery and a ballot into the grand draw was earned. After uploading their video, users could then digital play an instant win game, for the chance to win Reebok footwear and apparel.
The success of this UGC contest was its ability to resonate with a very targeted community in a way they could appreciate and engage with. You can play the interactive demo and see the results of the contest here.
There was a time when the iPhone was outpaced by Samsung for its camera quality. But with the release of the iPhone 8, and X, consumers have enjoyed a much better camera experience. And rather than creating a commercial ad campaign based around the product upgrade, they instead created the #ShotOnIphone hashtag campaign. Apple, being the marketing gurus they are, knew that great photographers were using their product, and rather than promote themselves, they instead promoted the content and the creators themselves. Users were encouraged to share their photos with the hashtag #ShotOnIphone to celebrate the beautiful photography created using iPhone. Apple would then select their favourites, and share it on their own Instagram account.
For Apple, the user-generated content already existed in the trillions, however, no one was claiming the Apple brand as their device of choice for content creation. This campaign gave photographers a platform for their skill while also giving Apple credit for the part their product plays in capturing these images.
With the help of some celebrities and social media influencers, Calvin Klein won over Millennials far and wide with their #MyCalvins campaign. The brand was able to target a new generation of consumers by encouraging them to share pictures of themselves wearing Calvin Klein underwear. Risky? Maybe. But this Calvin Klein campaign made exhibitionism look cool, not trashy and brought this legacy brand into a new age of consumerism. The success of the #MyCalvins campaign left the brand taking the next logical direction; "OUR FAMILY. #MYCALVINS". This campaign bridges the gap from becoming a personal one-off consumer purchase, to brand the entire family can share and enjoy. This, all driven by the help of user-generated content.
Here's the ultimate American family, the Kardashian/Jenners playing "Never have I ever" in the 2018 "OUR FAMILY. #MYCALVINS" campaign. Love it or hate it, people will keep sharing photos of their Calvins for a long time.
The Lay's "Do Us a Flavour" campaign is one of the most memorable and successful crowdsourced pieces of user-generated content. It's won multiple awards, including Shorty "Industry Award for Best Overall Twitter Presence" and "Shorty Industry Award for Best Consumer Brand". Why? Well, it might be the 1 million dollar cash prize or because consumers actually get to pick the winner. Regardless, the consumer feels in control of their own million dollar prize reward, which is pretty appetizing if you ask us. Additionally, the contest encourages participants to actively grow their own social media following by promoting their submission and encouraging votes. The result is organic user-generated content and reaching consumers far and wide. So smart!
Last year, after months of voting, America crowned Ellen Sarem from San Antonio, Texas the new Lay's "Do Us A Flavor" winner for her "Crispy Taco" flavor idea. Considering submitting your flavor this year? Fingers crossed the campaign runs again.
No UGC list would be complete without Coca-Cola's "Share a Coke" campaign. The campaign took the world by storm, and had fans sharing coke bottles with their names, the names of friends and family, and even strangers across social media. Not everyone was lucky enough to have their name printed on the bottles but still, everyone could appreciate the sentiment behind the strategy. Coca-Cola was basically saying that if you have a name, you're part of our community, and that's something that can be shared globally.
This year, Coke is rebooting the campaign, with several new innovations that will reward fans for the simple act of sharing.The "Share a Coke" name labels are now stickers that fans can peel off to reveal Sip & Scan™ codes. The codes instantly unlock your chance to win prizes ranging from a free Coke, to amusement park passes, to baseball tickets.
Saxon Seay, Brand Manager for Coca-Cola explained,
"That first year, it was all about discovery and introducing people to the idea that they could find their names – or the names of their friends or family members – on a Coke bottle. But over the years, it has become more about the experiences and moments shared over a Coke."
So, what do you think, will you be motivated to Share a Coke this summer and share it online?
---

In this age of digital transformation, businesses need to take creative risks when it comes to their engagement strategy. Explore the top 10 marketing trends that are disrupting the way we engage consumers in 2018 and beyond.
WHAT'S INSIDE:
Personalizing the Experience with Artificial Intelligence
Getting Immersive with Virtual Reality & Augmented Reality
Winning Over Your Customer with Contests and Sweepstakes
Interactive Case Studies from Dr. Oetker and adidas
Plus So Much More!
Download the FREE 17 page report today!
---