How CPG Brands Can Overcome Poor Consumer Engagement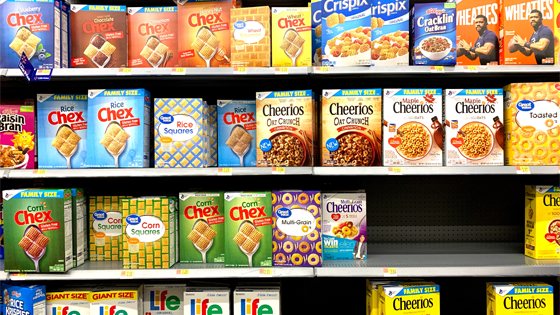 Online and digital grocery sales are hardly a new concept, however, the industry is seeing significant growth, with online sales growing by nearly 35% in the CPG industry last year, highlighting a fast-growing segment in an otherwise slow-growth industry.
This may be due to the emergence of new customer-centric digital brands that are carving out their own share of the $2 trillion industry. Meanwhile, legacy CPG brands are finding it difficult to adapt to changes in consumer behaviour, and find their footing in emerging channels.
For example, direct-to-consumer CPG brands like Dollar Shave Club — whose online sales doubled Gillette's in just three years — are turning the traditional CPG growth model on its head.
Let's take a look at some of the major trends that are disrupting the CPG industry in 2019, and how brands can better engage consumers given these changing behaviours.

Consumers Are Purchasing Groceries and CPG Products Online More Than Ever
According to research by the Food Marketing Institute, nearly half of US consumers are purchasing groceries online, marking an enormous increase from just a few years ago. The same study projects that online grocery sales will make up 20% of all grocery sales, becoming a $100b market by 2022.
This trends opens a new door for CPG brands to capture consumers online and boost engagement through digital channels.
Another important point to note is the influence digital has on overall spend. The chart below explains how digital properties are impacting consumer spending on certain channels:

We can conclude that brand apps and websites have the largest impact on digital sales. Consumers are spending 108% more online than in-store. While search marketing and video ads are increasing brand spend by 40% and 50% respectively; driving 40% more shoppers than in-store.
Google reports that 43% of CPG shoppers say they use search in their most recent shopping journey for inspiration, browsing, or research. Even more meaningful: Those shoppers report spending 50% more than those who didn't say they used search. That's telling. They're knocking on your door, ready to spend. If consumers are online and ready to spend, CPG brands should be ready to invite them in, and digital campaigns are a huge driver for this.
CPG Brands and The Amazon Effect
Amazon is disrupting the way CPG brands think about selling their products. Amazon's acquisition of Whole Foods last year signaled the importance of eCommerce on groceries and the CPG industry.
Amazon Fresh, which offers same-day delivery options (1-2 hours) in a growing number cities, became Amazon's fastest-growing category with sales surging by 40%. Another survey by Coresight research found that 59.5% of US internet users had bought groceries from Amazon in the last year.
The growth of Amazon Fresh and Amazon Pantry has compelled grocery giants Walmart and Target to speed up their own initiatives to open up online store fronts.
Walmart plans to expand its grocery delivery business to over 1,600 stores by year's end, while Target plans to include all product categories with same-day delivery.
Meanwhile, 73%

of CPG shoppers
say they consider 2 or more product brands while browsing or researching during their most recent shopping journey. So, it's vital for CPG brands to find new ways of differentiating themselves online, engaging consumers, and driving them to action.
How Digital Campaigns Can Help CPG Brands Engage Consumers
The following case studies are examples from CPG brands that are leveraging the SPRY platform to enable digital programs that capture and engage online and in-store consumers. The ability to bridge the gap between both online and physical is an important mission for many brand marketers. This is no different for marketers adapting to changing trends in the CPG industry.
Dr. Oetker

Campaign: Dr. Oetker's "Find Giuseppe" Contest
Consumers were invited to purchase participating Giuseppe Pizzeria products in-store to acquire a PIN Code and enter it on a contest microsite. Consumers could then digitally search for Giuseppe onscreen using a digital magnifying glass. Points were then given to users based on their speed and accuracy of finding Giuseppe as well as for entering PIN codes.
The campaign led to over 80,000 contest entries, 127,589 social media shares, and nearly 44,000 Dr. Oetker e-mail opt-ins. By leveraging a digital asset with incentive marketing, Dr. Oetker was able to successfully drive in-store purchases while engaging consumers online. To see exactly how they did it, you can download the case study here.

Wrigley

Campaign: Wrigley #5GAMEON "No Pain No Game" Contest
Wrigley invited consumers to purchase a pack of 5 Gum and upload their UPC code online for the chance to win instant daily prizes and a Grand Prize Trip for two to an EB Games Conference. Wrigley collected thousands of entries from consumers who went in-store to purchase a pack of gum. They then went online to enter for their chance to win.
The ability to drive consumers in-store using digital incentives is integral to a successful CPG brand strategy. More CPG brands will need to leverage this kind of solution to set themselves apart in 2019 and moving forward.

Unilever

Campaign: Unilever "Baby Dove" Photo Event
Baby Dove hosted a "Photo Event" at 350 different Walmart locations across the US leading up to Mother's Day. Visitors were directed to a booth within Walmart where a professional photographer would then take photos of the mother and her child. Participants then chose the photos they wanted to keep using local tablets with the Baby Dove event app.
This campaign once again drove consumers in-store while integrating a digital engagement element to their experience. Over the course of 6 days, Baby Dove was able to collect over 2,000 entries, from their target consumer. This allows Unilever to market to, and engage these customers online in the future.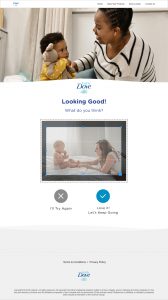 Are you a CPG brand looking for new innovative ways of engaging consumers? Speak to one of our engagement specialists about how to improve the shopping journey with a digital solution today.
---

We'll talk about:
Acquiring and activating data with a platform-first approach
Using incentives to capture data and engage audiences
The benefits of leveraging gamification tactics
Successful case studies
Plus, so much more!