Why Customer Engagement Is More Important Than You Think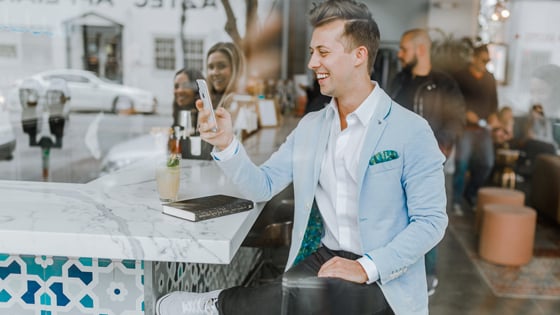 As the competition for customer attention and brand loyalty escalates, consumers must decide what content is worth engaging with. In today's highly dynamic and interactive business environment, the role of "customer engagement" in co-creating interactive customer experiences and value is receiving widespread attention from business practitioners and academics alike. It is suggested that customer engagement represents a strategic imperative for generating enhanced corporate performance, including sales growth, superior competitive advantage and profitability. The rationale being that engaged customers play a key role in viral marketing activity by providing referrals and/or recommendations for specific products, services and/or brands to others.
But how can businesses create an engagement strategy that accomplishes all of the above? In order for businesses to develop an effective strategy, they must first understand:
What customer engagement is.
Why marketers should care about this buzzword.
How to measure it right now.
Explore below to understand the what, why, and how of this important business trend.

What is Customer Engagement (CE)?
According to Forbes columnist, Micah Soloman, customer engagement is the direct route to every important business objective. It's the pathway to achieving what every business wants:
Customer loyalty
Customer purchases
Customer-based profits
Customer ambassadorship for your brand
However, defining customer engagement, or its distinctiveness from other concepts, such as 'participation', 'involvement', and 'commitment' is a bit blurry. Research shows that customer engagement is based on interactive creative experiences, and provides an important concept for marketing and service management that moves beyond participation, involvement and commitment. This is because the concept encompasses the proactive, interactive customer relationship with a specific brand.
With that said, there are five key themes that differentiate customer engagement (CE) from other marketing concepts that can help us better define the term:
Reflects a customer's particular psychological state created by the individual's specific interactive experiences with a brand.
CE states to occur within broader, dynamic processes typified by the co-creation of value.
Plays a central role in service relationships where other relational concepts act as specific engagement antecedents and/or consequences.
Is a multidimensional – cognitive, emotional, behavioral – concept, where the expression of the specific cognitive, emotional and behavioural dimensions is stakeholder (e.g. customer)
It occurs within a specific sets of context-dependent conditions generating different CE levels.
Other relational concepts (e.g. participation, involvement) act as engagement antecedents and/or consequences (e.g. commitment). The iterative nature of the engagement process means there feedback loops over time. That is consequences of engagement may subsequently act as antecedents.
Why Do You Need Customer Engagement?
Engagement is much more than a business metric. It is a relationship that you build over time as you draw consumers closer to your organization. It is the fuel that drives business growth and continuous revenue. Gallup research shows that a fully-engaged customer represents 23% more revenue than average. So, if you don't have a customer engagement strategy, you are missing opportunities to interact with customers and build a relationship with them. There is no single customer engagement method that works for every company across all industries; however, there are some common tactics that are transferrable. For example, some of the world's most trusted brands are engaging consumers using incentives and engagement mechanics. See see some great examples from major brands here.
Additionally, a number of managerial applications are emerging for the purpose of customer engagement. The opportunity to manage and deploy CE campaigns and programs is maturing daily; this includes the development of "engagement platforms" like SPRY which helps brands engage, incentivize, and activate consumers. The weight of customer engagement on overall customer value is intensifying, and those who fail to realize this will not survive in today's highly dynamic and interactive business environment.
How to calculate customer engagement
Now that we have a good understanding of customer engagement and it's impact on business, it's time to calculate your engagement efforts. Measuring your customer engagement is intrinsically tied to the strength of your brand community. As a result, there are a number of metrics you can keep an eye on to see how healthy your brand's customer engagement is:
Guest checkout rates — the fewer guest checkouts you have, the more customers are creating an account at your store and joining your community
Purchase frequency — a higher purchase frequency means customers are returning and engaging with your store more often
Average order value — an increase in average order value indicates that customers are developing emotional connections with your brand and are choosing to stay loyal as a result
Customer lifetime value — the emotional connections customers build with your community will translate into a higher financial commitment over time
Churn and retention rates — the lower your customer churn rate, the more committed customers are to staying engaged with your brand community
If you factor in these metrics with your list of other KPIs, you can more effectively determine whether your brand is engaging consumers to its full potential. These metrics will then help inform the rest of your data and give you the insight you need to continue to fine tune experiences that drive brand engagement.
---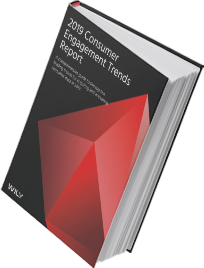 Companies are connecting data and content to deliver on the notion of personalization. This report assists brand marketers and agencies looking to engage consumers in the digital-first era. It outlines 10 emerging trends and technologies that marketers need for personalizing communications along the customer journey.
WHAT'S INSIDE:
The Value of Data-Driven Creatives
5G and Mobile-First Marketing
Leveraging The Internet of Things (IoT)
Experience-Driven Marketing
Plus, So Much More!