[eBook] The Best Marketing Technology Buzzwords for 2019 (Volume 1)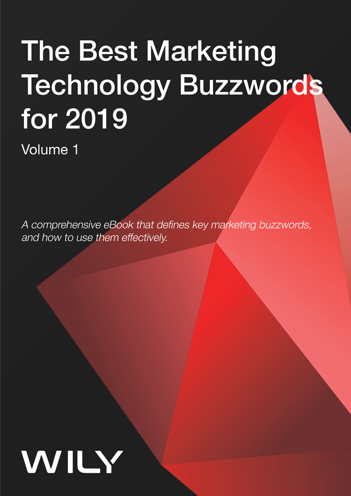 The right buzzword or "buzz phrase" used at the right time can not only impress your colleagues, clients, and customers by making you sound well educated, but it's an opportunity to legitimately contribute more effectively in meetings, and in your own work when you actually understand the meaning, and the context of the words you're using.
Since the advent of digital communications, there continues to be countless buzzwords popping up all over the place. Some, for example, "synergy," should be retired, while others have shown resilience, and strength year-over-year, which this eBook will cover.
Whether you like it or not, these key terms and phrases have infiltrated the marketing industry, and as marketing continues to lean heavily on digital technology and automation for success, new words to follow these advancements will be sure to follow.
In Volume 1 of this comprehensive book, you will understand the ins-and-outs of the most up-to-date marketing technology buzzwords, and how marketers can effectively use these terms in the workplace, and in every day use.
Not only will you never misuse a buzzword again, but you'll have a new appreciation for what these key words offer the marketing industry, and why they are vital for its ongoing growth.
So, go on, and get buzzwording!

01. Martech (n.)
Also known as 'Marketing Technology,' the term martech is the area of customer relationship management (CRM) concerned with creating, managing, and using digital tools that make it possible for marketers to automate tasks and make data-driven decisions. We can take this a step further and say it is the applications and platforms that allow marketers to engage with their potential customers in the digital space at every stage of the customer journey.
There are multiple facets of marketing technology, such as "adtech," a subsect of the much broader term of martech, and is simply technology that helps marketers and agencies manage advertising.
CMO: "In order to enhance the customer journey, we must continue to reassess and consolidate our martech stack and channel our long-term vision into "mission critical" solution providers."
#Martech #DigitalTransformation
02. XM/Experiential Marketing (n.)
XM is an abbreviation for what is known as, "Engagement Marketing," or "Experiential Marketing." It includes a diverse set of marketing areas such as event marketing, live marketing, and participation marketing. It is a marketing strategy that directly engages consumers and invites and encourages them to participate in the evolution of a brand or brand experience.
Engagement marketers believe that consumers should be actively involved in the production and co-creation of marketing programs, developing direct relationships with the brand.
Today, experiential marketing relies heavily on digital assets in order to drive such interactions with consumers. Mobile and web applications provide a portal for brands to readily engage with, and activate consumers. By incorporating data-driven insights brands can now drive interactions on a more personal level.
Girl 1: "Hey; how cool was that human carwash that Vitamin Water had at the festival this weekend?"

Girl 2: "Omg, super cool. I still have those free vouchers they gave out. I should probably go stock up on Vitamin Water now, haha."

Girl 1: "Do it! I have to admit; they sure know how to do experiential marketing right."
#XM #ExperientialMarketing
03. Activation (n.)
Marketing "activation" is part of the marketing process, which typically comes after the planning phase during which managers plan their marketing activities and is followed by a feedback phase in which results are evaluated with marketing analytics. Depending on the business objective, two types of marketing activation can be used as part of a marketing strategy.
Brand activation, sometimes called brand engagement which focuses on building a longer term emotional connection between the brand and the customer.
Activation based on direct-response marketing will focus on generating immediate sales transactions. A successful marketing activation will allow businesses to increase their profits and reach their strategic goals.
Over the years, marketing activation has become more and more data-driven. This allows marketers to be more precise in their actions, measure results more effectively, and increase returns.
Marketing activation techniques are commonly used in sports marketing, and are often associated with brand sponsorship to boost consumer awareness.
Leaf's fan: "Hey Brad; I went to the Leaf's game yesterday and they gave everyone who downloaded their app 20% off Sport Chek apparel, so I bought you this cool shirt."

Brad: "Oh sweet, thanks! You know that's what marketers call a 'brand activation?'"

Leaf's fan: "Sure, whatever Brad, just enjoy the shirt."
#Activation #BrandActivation
04. Acquire (v.)
The ability to "acquire" consumer data has become the new gold standard in marketing practice. Marketers must devise strategies and enlist tactics such as sweepstakes and contests in order to capture and collect data.
Typically, brands and agencies can leverage incentives to attract consumers who are willing to offer up personal data. This information is then organized and analyzed for future use. Marketers can then better personalize and target campaigns for certain customer segments using the data acquired.
Data capture forms are one of the most popular methods of collecting this information, which is defined in more detail in Volume 2.
Marketer 1: "We want to acquire more data about our Millennial audience, so that we can target our next campaign effectively."

Marketer 2: "Let's run a contest, people love those!"

Marketer 1: "Good idea. Meeting adjourned."
#DataAcquisition #DataCollection

05. Platform (n.)
As described earlier, data is the core of every marketing decision today, and for that, it's necessary to have a powerful platform to access, analyze, and act upon your metrics. As the speed of marketing gets faster, your decision-making needs to keep up.
The term "platform," in marketing, can be defined as a base or an interface which operates online and offline to accomplish a marketing designated task, with the ultimate goal of driving customer engagement. A platform can be anything that enables:
Social media channels (Facebook, Twitter, LinkedIn etc.)
Online marketing using email, SMS, voice softwares
Marketing through blogs, articles, content writing etc. (also known as a CMS or "content marketing system")
Google Adwords
Advertisements in newspaper, on TV, Radio etc.
Marketers must choose their interface or marketing platform based on their specific marketing needs.
The marketing platform provider should be a partner to marketing, a company that truly understands what's happening in marketing and that "has marketing's back". Your marketing platform is not an add-on to sales technology, or a component of an IT solution. It's the core foundation to all aspects of marketing success.
Boss: "Listen Linda; I need you to research the most effective platform to promote our latest ad campaign."

Linda: "Already done! Turns out Instagram has the highest engagement rate for our target audience, and the most cost-effective advertising options."

Boss: "Look at you go, Linda! You just earned yourself a raise."
#Platform #SocialMedia #Ads
06. CRM (n.)
CRM is a term that refers to practices, strategies and technologies that companies use to manage and analyze customer interactions and data throughout the customer lifecycle, with the goal of improving customer service relationships and assisting in customer retention and driving sales growth.
At the most basic level, CRM software consolidates customer information and documents into a single CRM database so business users can more easily access and manage it.
Over time, many additional functions have been added to CRM systems to make them more useful. Some of these functions include recording various customer interactions over email, phone, social media or other channels; depending on system capabilities, automating various workflow automation processes, such as tasks, calendars and alerts; and giving managers the ability to track performance and productivity based on information logged within the system.
VP of Sales: "Were you able to add those leads from the trade show into the CRM?"

Marketer: "Yup; and I've set up an assignment rule so sales contacts each lead according to their geographic territory."

VP of Sales: "Great. Thank you! You know we'd be lost without you?" Marketer: "I know."
#CRM #LeadManagement #Sales
07. Gamification (n.)
Gamification is the application of game-design elements and game principles in non-game contexts. It is widely applied in marketing to engage consumers, and in customer retention programs. Gamification techniques leverage people's natural desires for socializing, learning, mastery, competition, achievement, status, self-expression, altruism, or closure, or simply their response to the framing of a situation as game or play.
Marketers can harness the power of gamification by using rewards such as eGift cards and discounts for players who accomplish a desired task. Making the rewards for accomplishing tasks visible to other players or providing leader boards is another way of encouraging players to compete.
By incorporating gamified elements into your digital brand story, it's possible to drive engagement at mass. Marketers can now deploy gamification across web and mobile applications, and social media.
Guy 1: "Sweet, I just won a $10 gift card for my favorite shoe brand by playing a mobile trivia game."

Guy 2: "I love when brands use gamification in their marketing, it never fails to get my attention."
#Gamification #Gamified
08. Data-driven (adj.)
Data-driven is an adjective used to refer to a process or activity that is spurred on by data, as opposed to being driven by mere intuition or personal experience. In other words, the decision is made with hard empirical evidence and not speculation or gut feeling.
Not long ago marketers operated according to their own learned experiences or on sheer guesswork. Sophisticated agencies and brands may have enlisted outside research firms, or conducted focus groups to prove market reaction. Although these strategies are still useful, the Internet of Things has opened the flood gates to access consumer data without in-person communication.
If data points to sales being down because of brand perception, then specific actions can be taken to reverse that. If data analysis reveals that users of a current generation of mobile device are leaning toward a specific feature, then the next-generation device can make use of that knowledge.
Marketer 1: "After surveying over 1,000 consumers we determined that our latest range of cosmetics did not meet expectations, and that different colors and shades should be added to be more inclusive."

Marketer 2: "This new information will help us make more data-driven decisions, and shape our brand ideology moving forward."

Marketer 1: "Yea, you know what else it means?"

Marketer 2: "What?"

Marketer 1: "We can take an early lunch."
#DataDriven #DataMarketing
09. Big data (n.)
In order to be data-driven, marketers need data to make data-driven decisions, and big data is the remedy. Big data is a broad term used to describe the collection of information from publicly shared comments on social networks and websites, voluntarily gathered from personal electronics and apps, through questionnaires, product purchases, and electronic check-ins. Additionally, the presence of sensors and other inputs in smart devices allows for data to be gathered across a broad spectrum of situations and circumstances.
"Big data is a journey that every company must take to close the gap between the data that's available to them, and the business insights they're deriving from that data. This is a definition that business and technology leaders alike can understand and use to better win, serve, and retain customers."
Big data helps marketers answer relevant business questions that are not obvious such as "Who are my most engaged customers?"
Another very important factor in distinguishing Big Data is storage. For many entities – be they huge industrial tech firms or boutique retailers – the ability to store large amounts of data in the cloud as opposed to storing data in physical servers that require space and maintenance is key to the emergence of Big Data as business reality.
Marketing Intern: "Hey, so what's so big about big data?"

Digital Marketer: "Haha! It's just an easy way to describe the volume of data we have access to. Big data lays the foundation for all our marketing decisions; without it we're basically operating in the dark. You know, so I don't assign you work that has no real impact on business performance."

Marketing Intern: "Oh, so I should be thanking big data for all this work I have to do?"

Digital Marketer: "And for your job…"

Marketing Intern: "Ha! I'll just go back to my desk now, thanks!"
#BigData #IoT
10. Personalization (n.)
Personalization, or "personalized marketing" (one-to-one marketing) is a strategy where companies deliver individualized content to recipients through data collection, analysis, and the use of automation technology.
The purpose of personalization is to engage consumers by communicating with each as individuals, rather than en masse.
There is a growing demand for personalization, and therefore the need to collect and deconstruct data to better offer more relevant content. In many cases, consumers are willing to exchange personal data for discounts and rewards.
The benefits of personalization are vast, and include: an improved customer experience, increased ROI, and deepened brand loyalty. Artificial intelligence is a driving force behind the success and implementation of personalization, which you'll find in Volume 2.
Guy 1: "Hey, I saw this ad on Instagram today saying there was a Black Friday sale on electronics at Best Buy."

Girl 1: "I got one too but mine was for appliances, which is crazy because my washing machine JUST broke the other day."

Guy 1: "Creepy? Or is Best Buy just really good at personalization? Either way…I'm probably going to go buy a drone."
#Personalize #Personalized #Personalization
Don't miss the last 20 marketing technology buzzwords! Download the eBook now to learn the buzzwords you need to know in 2019.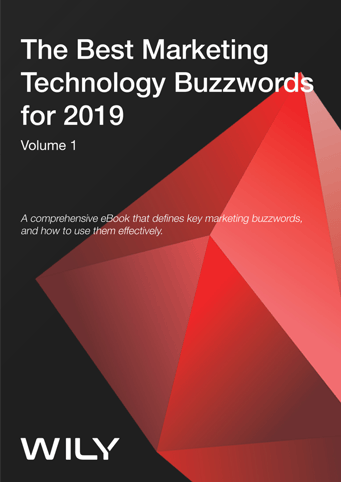 ---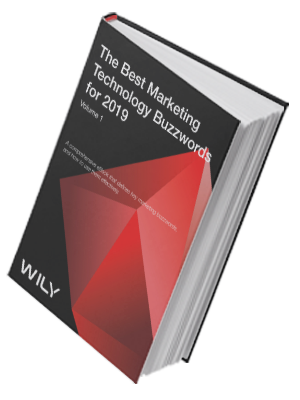 As marketing continues to lean heavily on digital technology and automation for success, buzzwords and phrases will only continue to grow in complexity. In Volume 1 of this comprehensive book, you will understand the ins-and-outs of the most up-to-date marketing buzzwords, and how marketers can effectively use these terms in the workplace, and in every day use.
WHAT'S INSIDE:
Diction 101: Defining the 30 Most Popular Marketing Buzzwords
Grammar 201: Understanding Correct Usage of Buzzwords
Etiquette 301: Effectively Using Buzzwords in Professional Conversations
Context 401: Hashtags to Follow for Relevant Online Discussions
Plus, So Much More!