Digital Engagements that Help Sports Teams Score Big with Fans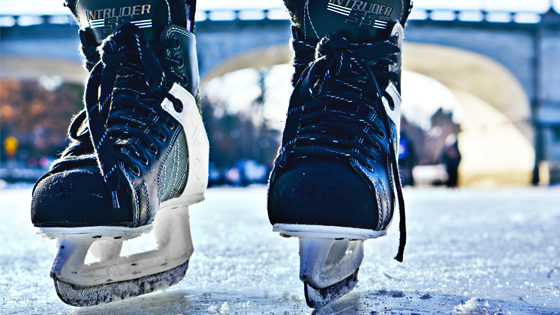 It may not be cold outside but hockey season is here, and there's one thing that franchises across the nation are counting on to make this season better than the last; their fans. It's one thing to make good draft picks, and create a team that your fans young and old can cheer for. But it takes more than the initial euphoria of an all-star team to make fans care. Sports teams, whether its hockey, basketball, football or any other organization, rely on fan engagement for continued growth. So, how can you keep your fans craving more even when the home team is losing? Two words: Incentivize them.
Sports fans enjoy playing games; the thrill of competition, and the prospect of winning. It's a key part of this demographic's behaviour. That's why digital engagements are the perfect tactic for captivating your consumers, and keeping them interested. If you are one of the many brands looking to activate your sports sponsorship, digital engagements and incentives play a big part in a winning strategy.
Below are some creative digital engagements that sports teams can use to engage, incentivize, and activate fans:
Engagement Mechanics
Flick to Win
In light of hockey season, it only makes sense to start with a hockey-inspired mechanic. The "flick" mechanic is often used by hockey sponsors, and teams to activate their sponsorships and engage consumers. In the following case study, Sport Check/Edmonton Oilers used our "flick to win" mechanic to activate their hockey sponsorship.
Sport Chek needed an in-arena digital activation to promote their sponsorship of the Edmonton Oilers while engaging fans and driving them to retail. By leveraging SPRY, they were able to invite fans to enter, via microsite, to win over 850 prizes on their smartphone by digitally shooting (flicking) a puck on a goalie. All prizes were claimed onsite at one of three prize stations operated by Sport Chek Advisors. Click here to see it in action.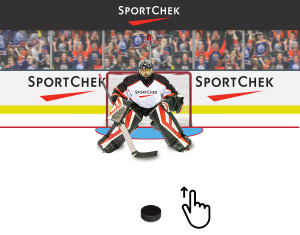 However, this digital engagement is useful for a number of sports-related activities, including football and soccer. The same tactic is transferrable to a variety of sports, for example adidas recently ran their "Kick to Win" campaign.
Memory Matching
To promote their NFL sponsorship, New Era wanted to run a national campaign to increase sales while promoting New Era as the Official Headwear of the NFL. Football fans across North America were invited to enter for the chance to win a trip for two to Super Bowl 50 and 1 of 150 limited-edition prize packs by playing a Memory Matching game that featured New Era/NFL products.
This engagement mechanic gave New Era the ability to showcase their products while activating their NFL sponsorship. To see the engagement mechanic in action click here.
Peel and Reveal
Hershey's used WILY's peel and reveal engagement mechanic to activate their NHL sponsorship. The goal was to create an activation that leverages Hershey's sponsorship of the NHL, their TV media investment, and make Reese's Cups the hero of the campaign.
Fans were invited to digitally peel back the wrapper of Reese's Peanut Butter Cups to reveal whether or not they were a winner. Successful entries revealed Peanut Butter Cups with three Stanley Cups. The campaign earned over 40,000 entries and nearly 9,000 newsletter opt-ins for Hershey's. To see the engagement mechanic for yourself, go here.
Watch and Win
For those who are unfamiliar, Red Bull Crashed Ice is a winter extreme sporting event that features downhill skating in an urban environment. Red Bull creates and sponsors the annual world tour.
For this series, Red Bull wanted to run a contest and engagement mechanic that further profiles the Red Bull Crashed Ice event, leverage existing RBCI content, and tied into their retail partnership.
Red Bull invited fans to watch a series of Crashed Ice videos and answer corresponding questions as fast as possible. Users who made the leaderboard were entered into a Grand Prize draw to win an all-expenses paid VIP trip for two to a future Crashed Ice event. Watch and play the experience in full here.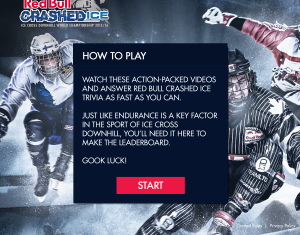 To learn more about incentivizing and activating fans with digital engagement mechanics speak to an expert and see how to personalize your experiences to turn any fan moment into a fan memory.
---

See how WILY developed an in-arena digital activation that promoted Sport Chek's sponsorship of the Edmonton Oilers while engaging fans and instantly driving them to retail.
WHAT'S INSIDE:
How to Activate Consumers in Real Time
Using Instant Prizing to Drive Engagement
Campaign Success Metrics and Results
Plus, So Much More!