Top 10 Marketing Trends for Engaging Consumers in the Digital Age [White Paper]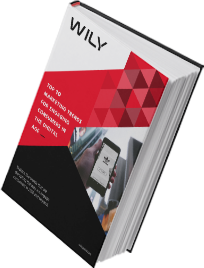 Speculation, not strategy, has been the name of the game for emerging technologies such as augmented reality and artificial intelligence. Though these innovations have been available to marketers for years, businesses have struggled to find effective ways to implement them. Recently, marketing leaders have begun to consider how these tools, and others, are playing into their long-term engagement strategy, and how best to put them into action.
In this age of digital transformation, businesses need to take creative risks when it comes to their engagement strategy. Gone are the days when an ad campaign was enough to hook a consumer. Today, customers across every industry want to feel immersed in a brand experience. And marketers agree that creating compelling content for digital experiences is one of the top three most exciting opportunities for the year ahead (14%).
To help ensure you don't get lost in the matrix; this report will uncover 10 of the most popular marketing trends that CMOs, directors, and managers, from brands and agencies, are planning to integrate into their consumer engagement strategies this year, and into the future.
1. Personalizing the Experience with AI
Customizing the consumer experience is not a new trend in engagement strategy, however, advancements in technology make personalizing more authentic and sophisticated than ever before. With the help of AI, businesses are given a highly sophisticated understanding of the marketplace. Currently, AI is transforming every industry, and marketers are no less eager to reap its benefits. According to the Salesforce State of Marketing Report, 51% of marketing leaders are already using AI, with 27% planning to pilot it in the next two years. Of those that use it, 57% consider it absolutely essential, or very important, in helping create personalized and connected consumer engagements across touch-points. AI has quickly transformed from being a "nice to have" into a "need to have" technology for marketing professionals looking to optimize brand experiences.
BUT DO CONSUMERS REALLY CARE?
In short, the answer is yes. The Reinventing Loyalty report found that nearly two-thirds (61%) of consumers surveyed agreed they felt loyal to brands that tailored their experiences to their preferences and needs. Furthermore, 51% said they would buy from a brand they had never heard of before if a better offer and experience was provided.
SO, WHAT DOES THIS MEAN FOR BUSINESSES?
Organizations need to move beyond the conference room, and start delivering on their consumers' expectations. Big data and AI are driving always-on, always-connected mobile experiences for customers. As more data is collected, and the more consumers share their information, the smarter the intelligence becomes. Marketers will better understand who their audience is as individuals, as part of a group, and as fans. The result? Highly personalized experiences that deliver the right content at the right moment to consumers. That's the power of AI, and it's only the beginning.
2. Getting Immersive with VR and AR
Augmented reality (AR) and virtual reality (VR) are two trends that are redefining how consumers interact with their favorite brands. However, marketing and technology experts still have to overcome a number of obstacles, such as: pricing and manufacturing (56%), limitations with AR/VR-specific devices (51%), consumer technology limitations (47%), and forming integration into daily life (40%), before virtual and augmented reality become commonplace. As consumers learn to adopt this new technology, marketers will soon be able to take advantage of this changing behaviour. By 2022, the augmented and virtual reality market is expected to reach a market size of 209.2 billion U.S. dollars. If this is an indication of consumer behaviour, it won't be long before VR and AR is completely integrated into everyday customer interactions.
HOW ARE BRANDS LEVERAGING AR & VR?
Right now, several brands are implementing augmented reality in their customer experiences. By combining this technology with some creativity the results are powerful. Companies including Apple, Snapchat, and Facebook are all integrating augmented reality into their platforms, enabling companies to offer their customers a chance to test products before purchase. For example, IKEA is using Apple technology to let customers envision furniture in their homes (as is Houzz) .
HITTING ANOTHER CHECKPOINT
AR & VR technologies have been around for several years, however their full potential still hasn't fully been realized. More testing, research, and consumer adoption is still required to determine what their long term relevance will look like.
Let 2018 be a year of learning more about virtual and augmented reality, and challenge yourself to see how it could fit into your business' engagement strategy.

3. Winning Over Your Customer with Contests & Sweepstakes
Contests and sweepstakes are tactics that have always had a place in the marketing mix to compliment a well planned engagement strategy. Sophisticated marketing leaders are finding ways to create and deploy digital promotions that enable them to enhance the customer experience, collect relevant data, and execute within an affordable budget. Additionally, digital contests enable businesses to track participation levels in realtime, integrate into their CRM, and continually engage consumers beyond the promotion.
With customers now expecting on-going value, customized moments, and relevant experience, offering them instant gratification with a contest not only makes your marketing efforts more impactful but shortens the sales cycle.
WILY ENTERPRISE SOLUTIONS
WILY is a leader in marketing technology solutions that are powering the data-driven economy. WILY Enterprise solutions enable you to integrate the SPRY platform with your core business intelligence system, CRM software, and digital assets such as websites, apps, etc. via our secure APIs. Bring together people, data, and solutions to create greater value for your customers in a digital-first world. Click here to learn more.
4. Increasing Response Rates using SMS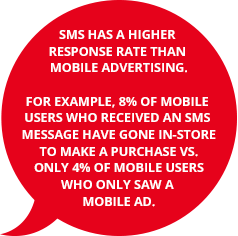 According to We Are Social, there are 4.92 billion mobile users globally; 66% of the total population. From 2016 to 2017, the industry went from 81 million new mobile users to 222 million new users. Given this significant growth in mobile communications, the ability to engage consumers via mobile SMS has increase greatly. It has been predicted that by 2020, 48.7 million consumers will opt-in to receive business messages via SMS, which will make SMS the single fastest growing marketing channel.
According to a report by Emarsys, when it comes engagement, SMS is key. Emarsys found that response rates from SMS are 209% higher than phone calls, Facebook, or email. Though not every text will result in a sale, 29% of targeted customers will respond to text messages and 47% of those responders will go on to make a purchase. However, using SMS as a marketing tactic can help expand your reach and generate another touch point for consumer engagement. With higher response rates than traditional media channels and more consumers opting in to communicate with businesses, SMS will be an important channel for marketing communication and customer service in 2018.
WALMART GROCERY PICKUP
Walmart uses SMS, powered by WILY, to promote their free grocery pickup service. To opt-in for free Grocery Pickup, customers TEXT to 474747, to earn $10 off their first 3 orders using a special promotional code. Walmart has experienced great success using SMS for this program, receiving over 15,000 opt-in texts in just over one year. For more information about how your business can benefit from SMS, talk to one of our experts.
5. Captivating Consumers Through Gamified Storytelling
In the year ahead, marketers who use a strategic mix of creativity and technology to generate and deliver stories will create lasting connections with their customers. The key to success will be to leverage data-driven insights and merge science and creativity. Using the power of cognitive technology to unearth insights, storylines and emotions to personalize interactions, will give companies a competitive edge in their given industries.
Gamification, the use of game elements (points, prizes, rewards, tokens, etc.) to incentivize desired behaviors, provides an incredible opportunity for marketers to increase excitement, engagement and drive consumers to action. In today's age of branded experiences, emotional engagement is proving to be more and more critical to achieving winning results, and effective storytelling and digital marketing are at the heart of this movement.
Today marketers are being tasked with crafting interactions with customers instead of mere transactions. To do this, they must not lead the customer journey with the "sale" but rather an activation that will drive to it. That activation must transport the consumer into experiences that create lasting emotional connections.
Don't miss the last 5 trends!
---

In this age of digital transformation, businesses need to take creative risks when it comes to their engagement strategy. Explore the top 10 marketing trends that are disrupting the way we engage consumers in 2018 and beyond.
WHAT'S INSIDE:
Personalizing the Experience with Artificial Intelligence
Getting Immersive with Virtual Reality & Augmented Reality
Winning Over Your Customer with Contests and Sweepstakes
Interactive Case Studies from Dr. Oetker and adidas
Plus So Much More!